Unable to find my Favourite list of takeaways.
Please Login to the Foodhub account and click on the dropdown on the right top corner of the screen and select Favourites to view the saved favourites.
If you still can't find the takeaways in your favourites, please search the takeaways and click on the
logo for the respective takeaway to save into your favourites.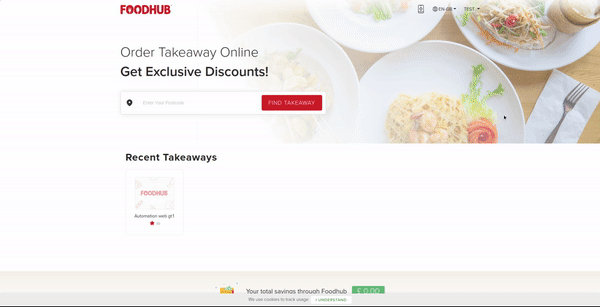 Related Articles

How to save a takeaway in your "Favourite" list?

You can save a takeaway in your favourite list of Foodhub accounts by simply clicking on the logo for the respective takeaway. Click on the dropdown on the right top corner of the screen and select Favourites to view the favourite takeaways you ...

Do we have an option to arrange the takeaways in alphabetical order?

Yes, once the takeaways are listed after entering your postcode, click on the drop-down arrow next to SORT BY and choose option A-Z. This will arrange the takeaways in alphabetical order.

Where can I find the contact details/phone number and location of the takeaway?

The takeaway contact details will be available on the takeaway website. Click on the VIEW INFO on the right top corner of the takeaway website you ordered from. You can find the Location of the Takeaway with the phone number on the bottom left of the ...

Where to find Foodhub Wallet Amount?

Learn how to view the Foodhub wallet amount in your account Foodhub Website Click on the dropdown and select the Wallet option to view the available Foodhub wallet balance. Foodhub Mobile APP Click on the Menu and select the Wallet option to view the ...

Where can I find the Terms and Conditions on Foodhub?

You can read terms and conditions of Foodhub on our website or app. Terms and conditions option available at the bottom of homepage. Just one click to view Terms and Conditions